As Christmas eve is near celebrated your Christmas with red velvet cookie cake recipe preparation of the cake takes only 20 mins and you will approximately need 1 hour 20 mins to finish preparing your cake. I will give you the ingredients and the cooking method for you.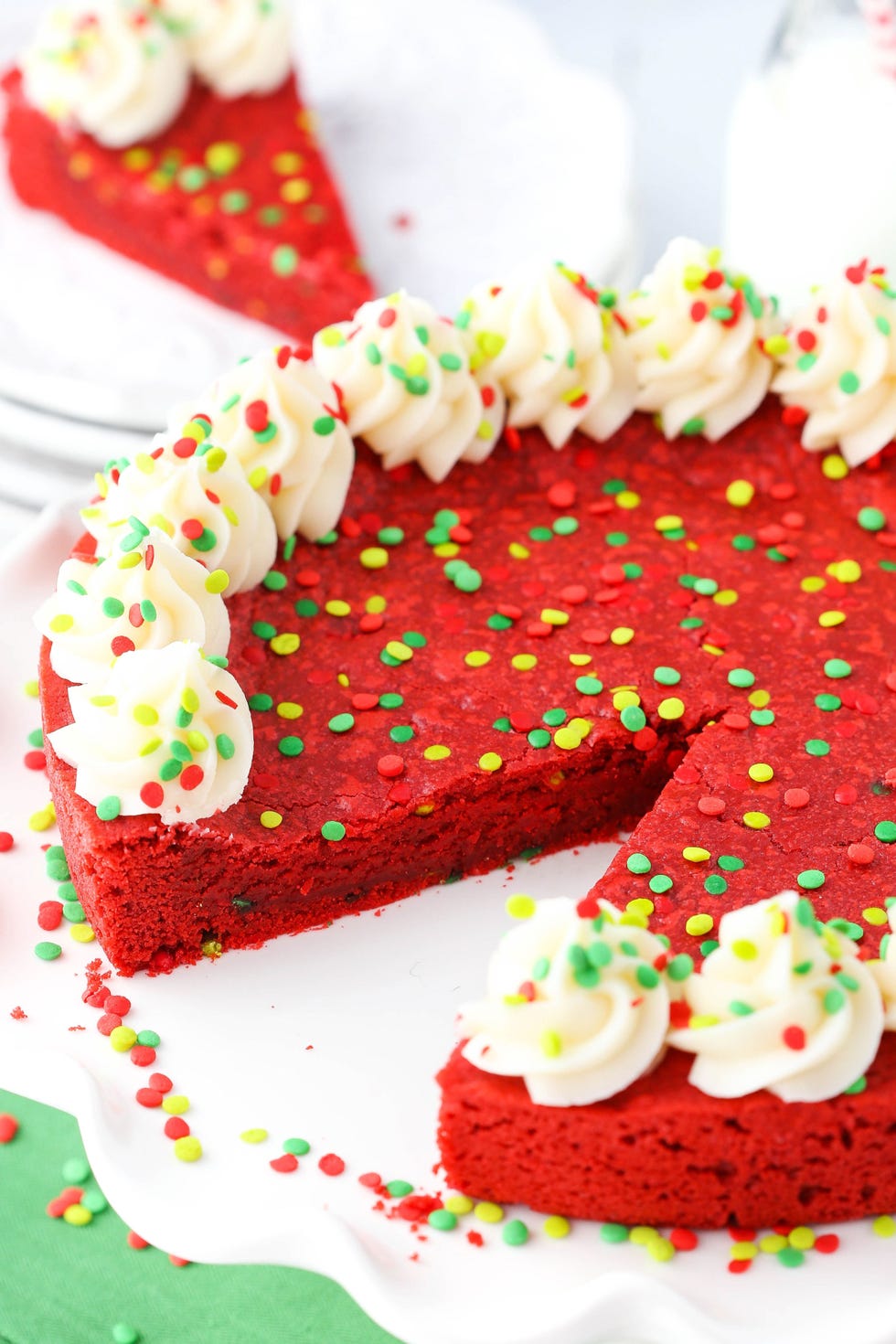 INGREDIENTS FOR THE COOKIE CAKE :
3/4 cup salted butter, softened
1 cup of sugar
1 large egg
1 teaspoon pure vanilla extract
2 teaspoon vinegar
1 1/2 teaspoon red food coloring (less than 1 oz.)
2 1/4 cup plus
2 teaspoon all-purpose flour
2 teaspoon cornstarch
1 teaspoon baking soda
1 teaspoon of cocoa powder
1/4 teaspoon kosher salt
3 teaspoon sprinkles, plus more for garnish
FOR THE CREAM CHEESE FROSTING
4 oz. cream cheese softened
3 teaspoon butter, softened
2 cup powdered sugar
1/2 teaspoon pure vanilla extract
Directions to Cook :
Make the Oven preheat with 350 degrees and keep a cake parchment of 9 inches and close all sides.
In a large bowl using a hand mixer, cream butter, and sugar until it gets light and fluffy, 3 to 4 minutes. And then add egg, vanilla, vinegar, and red food coloring and mix them well.
In another medium bowl, mix together flour, cornstarch, baking soda, cocoa powder, and salt, then add to wet ingredients and mix well.
Add the sprinkles and refrigerate the cookie dough for 30 minutes to 1 hour.
Apply the cookie dough evenly in the cake pan. (the mixture can be sticky so cover your hands with parchment paper if desired).
Bake for 18to 20 minutes until the edges become firm.
Remove the baked cake from the oven and allow it to cool in the cake pan itself and then serve to the plates
To make frosting mix cream cheese and butter until it becomes smooth. Slowly add half the powdered sugar and mix well, then add vanilla and remaining powdered sugar and mix until it becomes smooth.
Add the frosting onto edges of cookie cake and garnish with more sprinkles. Store in an airtight container in the fridge until ready to serve.
After that your red velvet cookie cake is ready to serve.